DE|EN

LUA RIBEIRA
NOISES IN THE BLOOD
–
09/04 – 08/05/2016
Opening: Friday 8. April 2016 – 8 pm
Live music by Cadavre de Schnaps
+++Finissage: 8th of May – 4-6 pm+++
NOISES IN THE BLOOD
THE NOISE THAT IT MAKES IS PART OF THE MEANING
-work in progress-
The Dancehall is a subversive cultural movement first named in 1940's in the inner city of Kingston, Jamaica, by the ones who could not attend to the uptown dances. Due to its popularity, the dancehall proliferated in many strands of Jamaican society subsequently becoming the current form of folklore. Patois lyrics overlay percussional rhythms, interrupted by the DJ's persistent 'wheel ups', in a borderline sound.
Women and men perform their sexuality in an ambiguous atmosphere of disgust and desire, celebrating the dance as a mode of theatrical self-disclosure in which the body speaks eloquently of its capacity to endure and transcend material deprivation. Often simplified as vulgar and misogynistic by the upper classes, the dancehall climax achieves moments of deep trance, violence, sex and drama. The 'bad language' stands up against values of d
ecency and the established law and order, as well as the extremely provocative and colorful outfits prepared with sacred care to allow the required transformation.
In Noises in the Blood, dancehall culture takes place in ordinary spaces within the United Kingdom, such as, homes, parks or social clubs. Gripped by the idea of the ritual, the dancehall becomes a particular cultural understanding of universal themes. By emulating the nature of a ritual, my intention is to celebrate the cultural collision that the dancehall creates within western perception, and all the complexities related to its endurance and external misinterpretations. (Lua Ribeira)
Simon Bainbridge (Editorial Director at British Journal of Photography): "Lua's work intrigued me from the first picture. You are immediately confronted by this quite harsh aesthetic […]Her preoccupation with ideas about diaspora, the exotic, cultural assimilation and resistance, all come through in this heady stew of images."
Lua Ribeira,born in Galicia 1986. Currently receiving a BA HONS in Documentary Photography from the University of South Wales, Newport.
www.luaribeira.com | OPENING HOURS: Sundays, 4 – 6 pm and by appointment | FINISSAGE: Sunday 8 Mai 2016 4-6pm

CADAVRE DE SCHNAPS
Let bad things happen, Live-music
The man behind the DIY-project is Jeong-Il Sin, a Cologne based Songwriter of South Korean origin with marked preference for punk rock and indie rock. His new Album "Lets bad things happen" was called as one of the best albums of the year 2015 by the local magazine Stadtrevue. In his live performance Jeong-Il Sin will present the songs on the acoustic guitar.
http://cadavredeschnaps.bandcamp.com/releases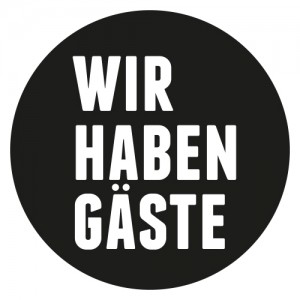 Fotoraum Köln e.V. combines studio and exhibition venue. Whether documentary photography, photojournalism or landscape, experimental, staged or conceptual photography: the interdisciplinary exhibition series Wir haben Gäste (we have guests) confronts international contemporary photography at the openings with music, performance or moving images.